Service layer design for pro-environmental behavior in the built environment
The project focuses on service design starting from the users' needs and experience, providing a systematic procedure that links data analysis to human-centered service design.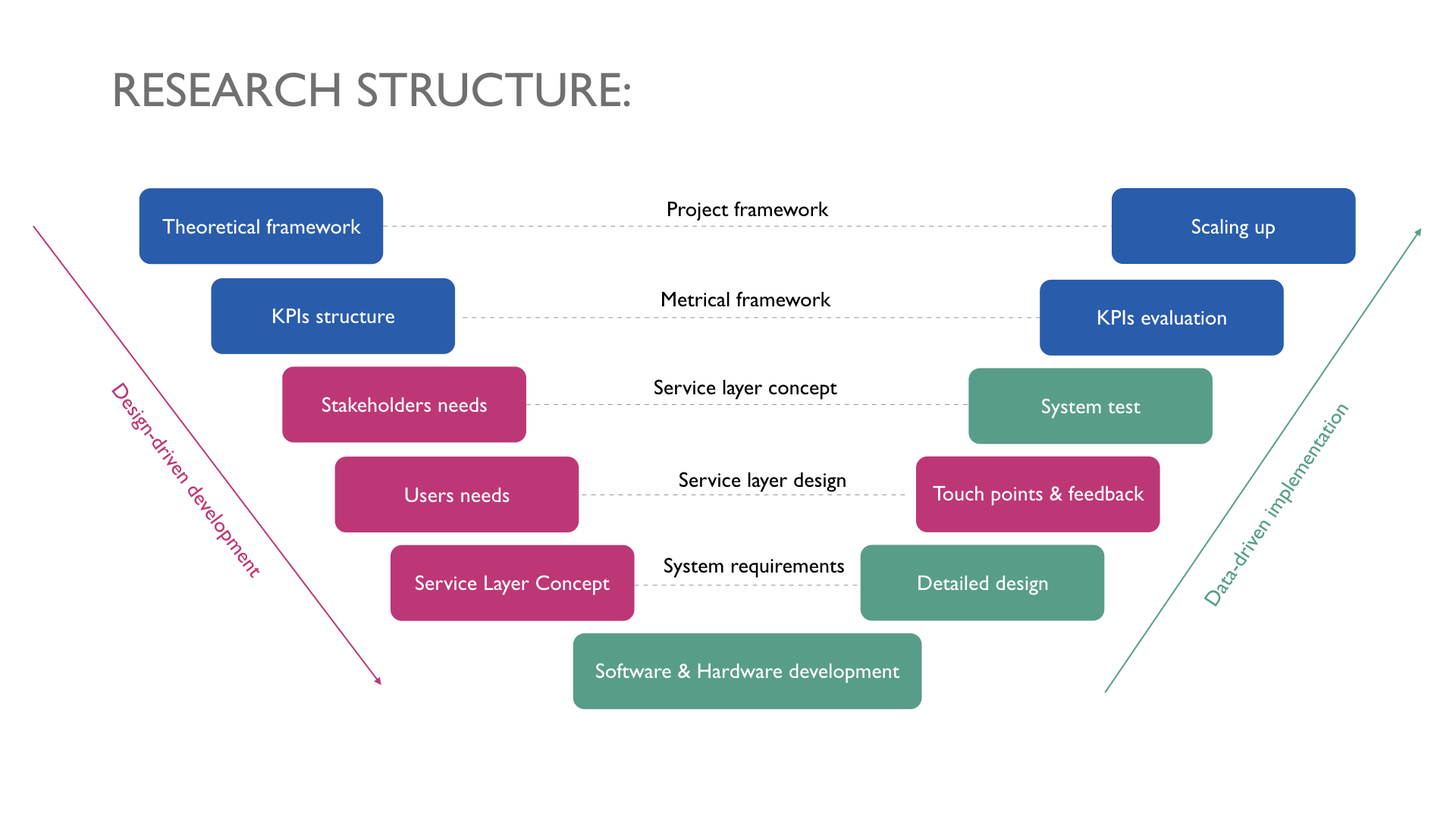 Background
Two main megatrends in 2019 according to FJORD Accenture are "Value-orientation" and "Data minimalism". Does it actually mean that we will use less data and previous forecasts related to extensive IoT and Big Data deployment will be reduced? Not at all, but with GDPR in effect and recent surveys, which show that users want less stress related to the data issue, we need to move to smarter and more human-centered ways to use data. The concept of connected environments and contextual data move beyond the "Internet of Things". Consumer expectations drive demand. That is why we have started to explore the concept of Living Services in KTH Live-in Lab – services that will be designed around the needs of individuals, as opposed to generic services defined by an organization for mass consumption.
Living services with a design perspective will be powered by users' data collected from sensor-rich objects, devices and the apps we interact with everyday. It will be the responsibility of organizations from business to government to non-governmental organizations (NGOs) to create services that are suitable and helpful to their customers, citizens and users.
Living services design is an inherently human-centric way and stems from the question "how can we improve users' lives?". Data is thus vital for living services. Awareness and concern about data privacy and specifically the use of personal information by digital service providers and communications channels is becoming one of the most significant issues of our time.
Project description
Living services design with big data applications for sustainable built environment brings together Service Design, Data Science and Behavioral Science to tailor service experiences to the expectations and habits of individuals by using different types of data. This research project contributes with increased knowledge on how an integrated approach that iteratively delivers the right data insights will not only improve the quality of life and convenience of citizens in indoor spaces, but also contribute towards more sustainable cities through more efficient utilization of scarce resources such as energy and water.
A challenging but critical aspect of this approach is establishing the capability to capture highly detailed behavioral and users' preference data and consider a framework of external data, that can create a launchpad for the new living services in the context of sustainable building & lifestyle.
By connecting the sustainable building operation with the end-users needs through living services, which are the middle layer between the building and end-user, we systematically increase of the users' motivation to behave more environmentally friendly and contribute into the more sustainable future.
The main question we plan to answer during this research is: How to implement a human-centric data-driven approach to the service design process?
SQ1: Which design methods are applicable at residents living services?
SQ2: Which KPIs can measure the proposed services success?
SQ3: Which data is available for the collection and which should be generated additionally?
SQ4: Which data analyzing model can be applied to understand users' behaviors and its contexts without compromising with the privacy issue?
SQ5: How proposed services could be adapted to other buildings of KTH Live-in-Lab platform?
Implementation
The project objectives are divided into four categories:
Pro-environmental objectives
During our research we focus on connecting the daily routine of the residents with the micro-assisting and seamless decision-making for pro-environmental behavioural (PEB), which will help save scarce resources, without compromising with the residents' comfort and needs.
User experience objectives
UX KPIs will be measured by qualitative methods through the participatory sessions and combined with the quantitative biometrical data from the OURA Ring (wearable solution, able to record stress level and thermo comfort).
System requirement objectives
On the initial stage we will measure each service testability index, which reflects the hardware and software readiness and traceability index, which reflects the correctness of all requirements, standards, and regulations.
Market adaptation objectives
It is not enough to design the service, which works well, from the point of the system testability and traceability. That is why it is important to measure the success factor of each service for the longer period of time at KTH Live-in-Lab and during the future scaling up phase.
News
Read more:
SERVICE DESIGN FOR PRO-ENVIRONMENTAL BEHAVIOUR IN THE BUILT ENVIRONMENT (KTH LIVE-IN-LAB CASE STUDY) (pdf 4.1 MB)
Exploring Service Systems In the DIgital Era (pdf 1.9 MB)
Data-driven Services for Smart Buildings (pdf 2.3 MB)