Co-Kitchen: Interview with Sara Ilstedt and Martin Sjöman at KTH
"… we need to know more about how to make co-living function better..."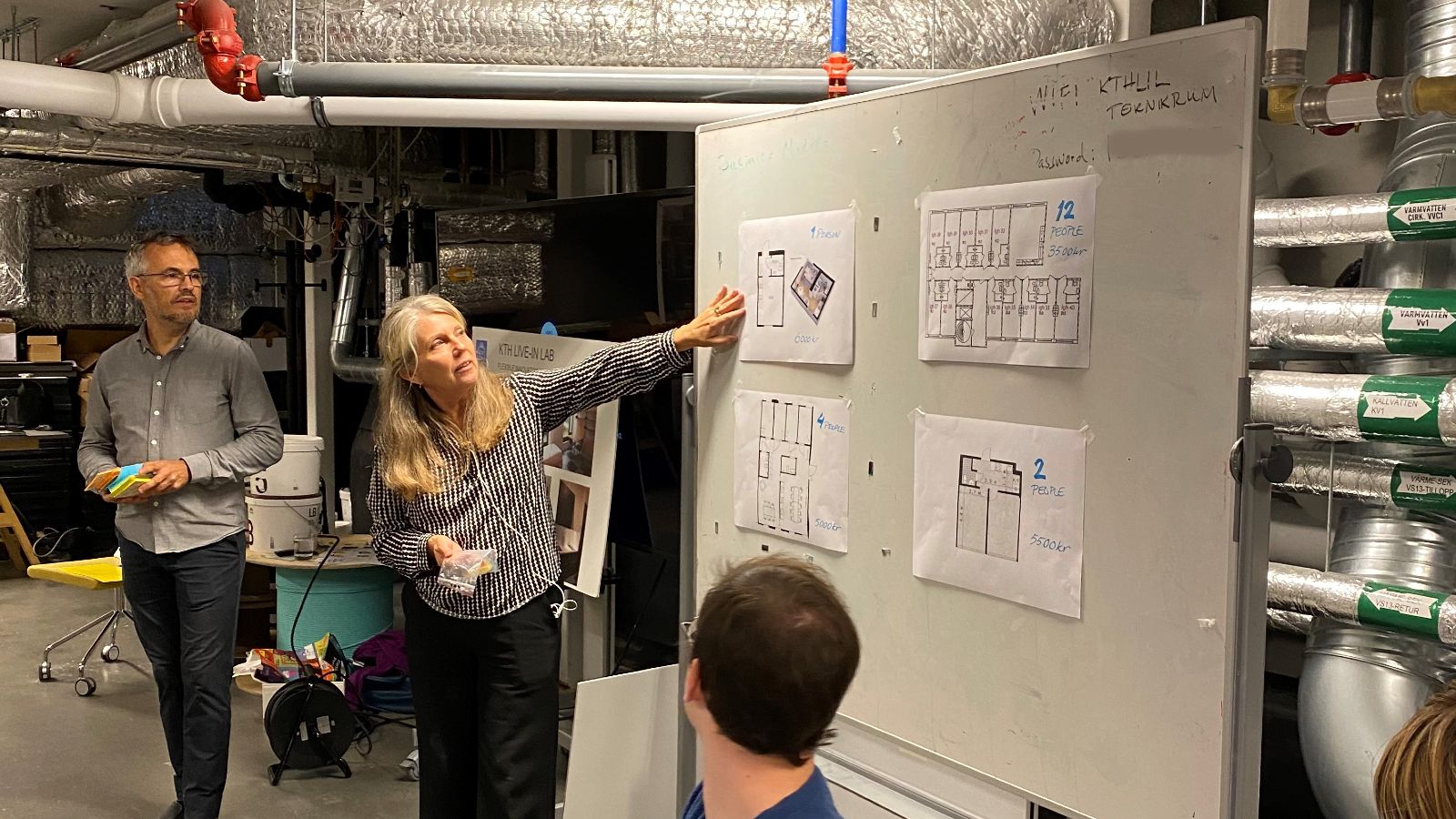 Published Jun 23, 2021
Several partners are involved in the research and development of KTH Live-in Lab's interdisciplinary co-living project. This time, we talk to professor and the project manager of Co-Kitchen, Sara Ilstedt, and PhD candidate, Martin Sjöman.
Who are Sara Ilstedt and Martin Sjöman?
Sara Ilstedt is a professor of product and service design at KTH Royal Institute of Technology and has a background as an industrial designer. She has been working with design research and sustainability for over 20 years; in 2012 she founded the research network Green Leap , focused on design and sustainability.
Martin Sjöman is a PhD candidate at KTH with a background as a designer. Martin investigates how design practices can be used in early-stage research to frame complex societal issues such as sustainability transitions. Sara and Martin are part of the KTH Product and Service Design Group in the Integrated Product Development unit.
How are you working to make buildings smarter and more sustainable? Why are you engaged in research and development?
We are dedicated to finding ways to speed up the transition to a more sustainable lifestyle and make it more human-centred. We believe design-methods can help frame and accelerate these complex issues.
Co-Kitchen project – briefly, what is it about?
The goal of the Co-Kitchen project is to develop sustainable student housing for the future, referring not only to ecological but also social and economic sustainability. Akademiska Hus is a partner in the project; they are planning to build 6,000 new student residences in the near future, and so the result of this project will feed directly into their work. The project focuses on co-living for students, and particularly on the kitchen as the centre of the home, a place of major resource consumption, social interaction, and potential conflict.
What is the purpose? Why is it important?
Living together and sharing spaces and functions has the potential to save large amounts of energy, but we need to know more about how to make co-living function better, socially and practically. Which functions and spaces do people want to share, and when and how do they want to share them? Where are the largest potentials for energy savings? What are the trade-offs, and what may cause unintended side effects or rebound effects?
Why have you chosen to work with KTH through the KTH Live-In Lab? And how have you collaborated with the KTH Live-In Lab?
The KTH Live-In-Lab provides a unique opportunity to build and test different solutions in real life. We have rebuilt the apartment twice and currently have groups of 5–6 students live there for a year. To follow users over a long period provides us with insights about their practices over time and how they change and develop, coupled with user data, which is extremely useful. It's very rare to have this type of long-term testing environment that researchers can monitor very closely. We have already uncovered some very interesting results.
Which other project partners have you collaborated with?
As our project looks in-depth at the planning, layout and functionalities of co-living apartments, our project partner TIP, an architectural firm, has devised new plans to rebuild the lab apartment in two stages. At this point, several other Live-In-Lab partners will be involved in rebuilding the apartment and performing research based on the user data. Savvy, a service design agency, is looking at student housing as a service and how that can be developed. We also have researchers from KTH Seed that are making detailed lifecycle analyses.
How has the pandemic affected the actual study? Have you thought about any results or goals in connection with the pandemic?
Yes. As previously mentioned, we are exploring how the social aspects of co-living may influence the concept's potential to reduce energy consumption associated with buildings and daily living. For the participants living in the project apartment, spending much more time in a shared home has likely both put more pressure on their social relationships but also offered company in a time that has caused loneliness for many. In a recent interview, our participants stressed how much they appreciate the fact that co-living is "like a family". It seems that some co-living concepts we have asked them to experiment with, like shared dinners and cleaning schedules, have really helped them build closer interpersonal relationships.
What is the next step?
Together with our project partner Savvy, we are investigating how some of the structures and conditions that facilitate social cohesion in a co-living context could be turned into services or scaled up in other ways by student housing providers. During the summer, the lab will be rebuilt a second time, and in August a new group of students will move in. That's very exciting!
More on this topic
Reconstruction of Testbed KTH 3.0 in full swing
Co-living: "The best of two worlds" (Interview with the five students who stayed in the co-living Testbed KTH 2.0, 2020/2021)
Co-Kitchen: Interview with Susanne Malmgren at Akademiska Hus
"How can buildings support us in our daily activities?" (KTH Live-in Lab's Elena Malakhatka with the latest on her project Service layer design for pro-environmental behaviour in the built environment)