Testbed KTH
Systems overview Testbed KTH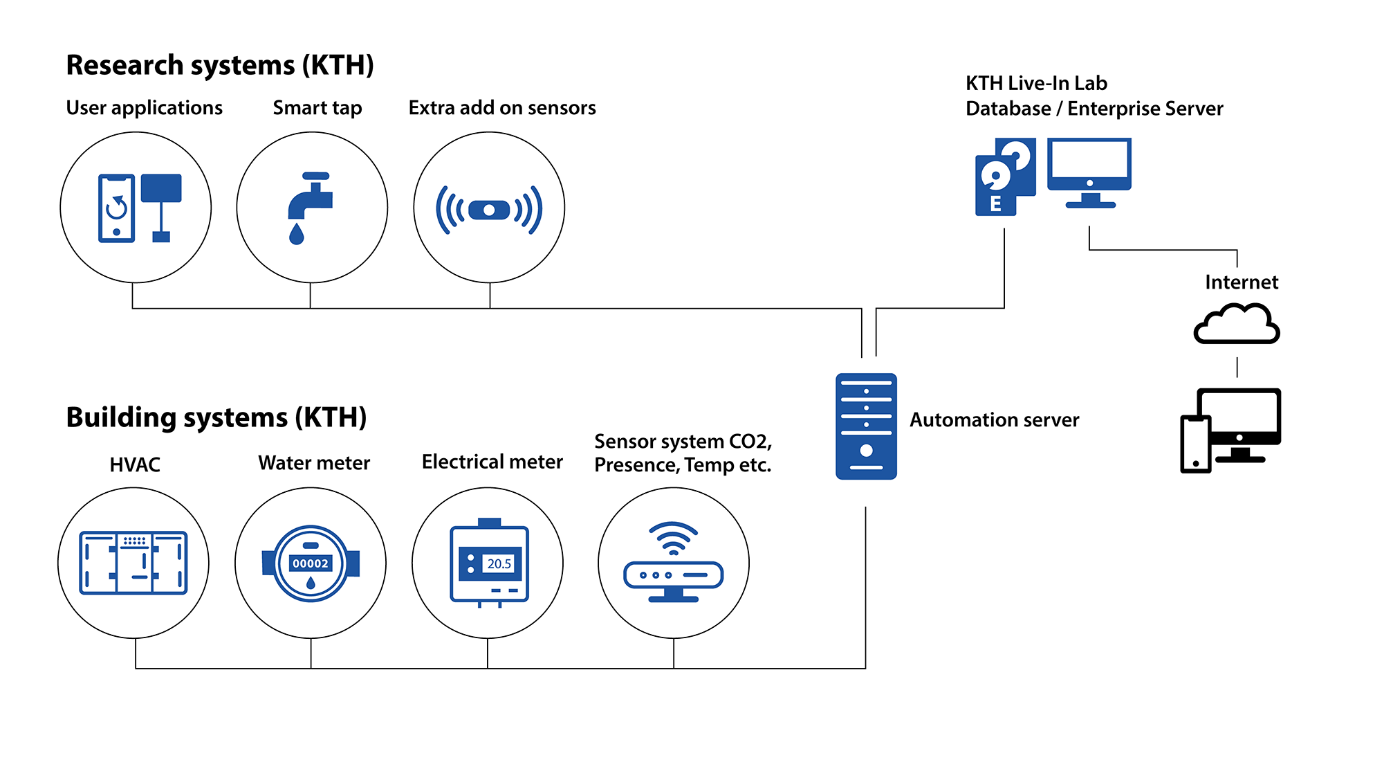 Sensors and measurements at apartment level
Temperature
Living room

Air temperature

Temperature ceiling

Temperature floor

Temperature indoor wall 1

Temperature indoor wall 2

Temperature outdoor wall 1

Temperature outdoor wall 2

Kitchen:

Bathroom
Air quality
Living room

Relative humidity

CO2

VOC

Kitchen:

Bathroom
Light & occupancy
Living room

Occupancy

Luminous intensity

Kitchen:

Occupancy

Luminous intensity

Bathroom

Occupancy

Luminous intensity
Pressure
Kitchen

Bathroom

Living room

External facade
Magnetic Sensor
Cold water
Warm water
Only bathroom (water flow and temperature from tap and shower)
Electricity
Electricity measured per fuse/group (stove/fridge/lights/sockets)
Sensors and measurements at building level
Corridor

Air temperature

CO2

Occupancy

Luminous intensity

Relative humidity

Office (Conference room)

Central supply (Basement)

Exhaust air flow

Supply air flow

Supply air pressure

Exhaust air pressure

Supply air temperature

Exhaust air temperature

Temperature after heat recovery

Temperature heating coil

Total cold water

Total hot water

Total electricity
sensors location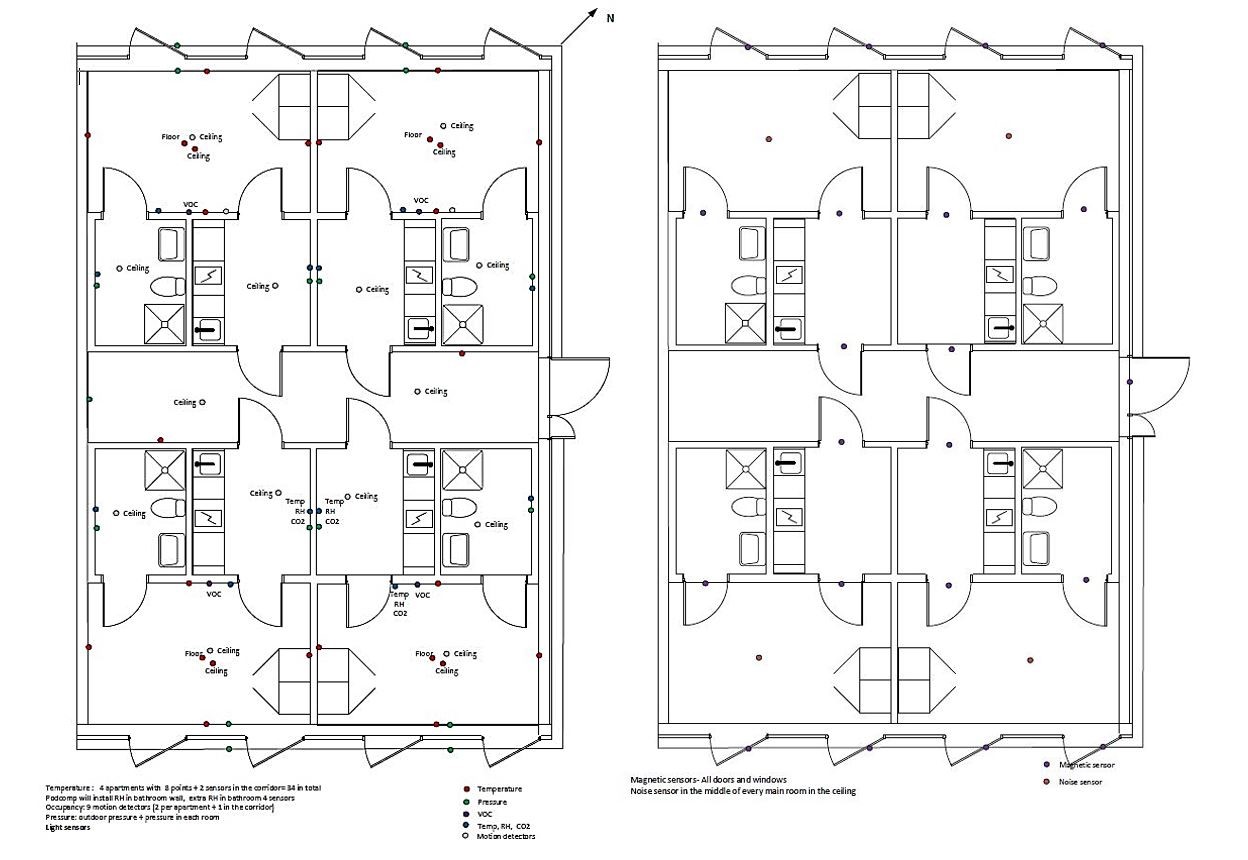 Systems (Under development)
Ventilation system "FTX System" (Fläkt woods) – eQ Prime
Ventilation type: controlled ventilation
Size: Klass 005 : Length 1400 mm, width 1050 mm, high 1102 mm
Capacity: Nominal air flow 0, 4 m3 / sec
Ground Source Heat pump (Thermia)
Type: Thermia Diplomat Inverter, Diplomat Inverter M
Size: Length 596 mm, width 690 mm, high 1845 ±10 mm,
Water capacity: 185 L
Power range: between 3 and 12 kW heat power
Water breaker (Gustavsberg)
Type: Vatette Vattenfelsbrytare
Electric capacity: 220v for 24v dc adapter plumbing
Dimensions: 136 x 110 mmPressure sensor: 0-10 bar
Pressure class: PN10 Motorized ball valve with manual override
Max working temperature: 60 ° C
Connected Taps (FM Mattsson)
Type: Tronic WMS (Water Management System)
More information here: FM Mattsson Tronic WMS
USB-C (Ochno) currently under installation
Ochno Power Conferencer
Type: 4 x USB Type-C
Capacity: Up to 100W power supply and IoT connection.
Charging capacity: 5-20VDC, up to 5A per socket.
Led Plate
Information: Controlled by a sensor. The sensor gathers information on movement, temperature and air quality.
Wall socket with USB-c socket
Type: OCHNO Socket
Charging capacity: 5-20V, 5A (Max 100W)
BMS System (Schneider)
Type: EBO 3.0 & SecurityExpert : EcoStruxureTM Building
CommunicationProtocols:
KNX
Dali
Modbus
Mbus
BACnet
AS
More information at Schneider blog webpage: Protocols guide
Wiser
Type: Resi9 med Wiser Energy
More information at Wiser webpage: Smart-home Wiser
Data (Under development)
Data is collected from the testbeds to a centrally placed server (Microsoft SQL)